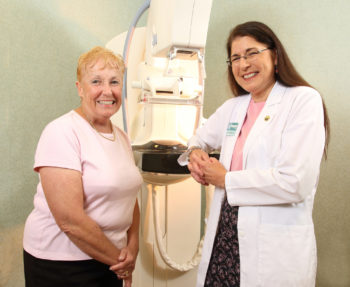 The latest breakthrough breast imaging technology – 3D mammography – is making it easier for doctors to spot early signs of breast cancer. Lake Medical Imaging now offers 3D mammography, in addition to a full range of breast imaging technologies, customized for each patient's breast density and history. Traditional mammography alone has decreased the mortality rate of breast cancer by 30% in the past 20 years. FDA-approved 3D mammography can take a more in-depth image of a patient's breast, allowing doctors to sift through different digital 'layers' to give them a clearer picture of any potential changes in breast tissue.
The Benefits
Along with earlier detection, 3D mammography provides other lifesaving benefits. Some of these include:
Better visualized abnormalities
In women with denser breasts, increased cancer detection and decreased false positives
Detection of 40% more invasive cancers
20%-40% less chance of needing another look
According to the Susan G. Komen Foundation, breast cancer mortality rates have decreased 38% since 1989, preventing some 300,000 deaths. This decrease can be attributed in large measure to early detection of aggressive cancers, as well as to breakthroughs in new treatments in the early stages of the disease
3D Mammography at Lake Medical Imaging
The medical professionals at Lake Medical Imaging know just how important early detection is when it comes to breast cancer. Their radiologists and staff even provide same-day results and quick follow-up when a potential problem is noted.
According to managing radiologist Dr. Cathrine Keller, "Breast cancer diagnosed in women who undergo annual screening mammography tend to be found when smaller, lower grade, node negative and more likely curable. Early detection is the best protection. That's why I believe the personalized approach is so vital."
For more information, please reach out to us at (352) 365-0777.