At Lake Medical Imaging, we are dedicated to providing the ultimate patient experience, while offering the highest quality diagnostic and interventional imaging.
Our positive experience starts by making it easy to schedule your appointment and continues throughout your visit with us.  After your appointment, you can tell us how we did by completing the online Patient Satisfaction Survey. We also make it convenient to Pay Bills Online.
We thank you again for CHOOSING Lake Medical Imaging for all your imaging needs.
Scheduling & Appointments
You can schedule the time and date of your appointment with our Patient Coordinators or your physician's office can schedule your appointment for you. For most diagnostic or interventional procedures, a completed physician referral form is required and should be brought with you to your appointment. Please provide a 24-hour notice if you need to change your appointment so that other patients may be accommodated.
Scheduling: (352) 365-0777
Toll-free: (866) 365-0777
Scheduling Fax: (352) 787-4655
Transferring Your Prior Images is Simple!
Before your appointment with us, please have any previous breast imaging studies transferred to us on CD so that your Radiologist can make an effective comparison and note any changes that might have occurred. Simply download the records release form below, and mail or fax the signed release to your former provider. They will send your images/reports to Lake Medical Imaging or to you, according to your selection. To view the form listed below, you will need Adobe Reader. You may download Adobe Reader for free at www.adobe.com (under 'Free tools' on the Adobe page).
Films or CDs from former providers
Please be sure to bring previous films or CDs from your former provider for any follow-up studies we did not perform. This is important to us, so that we can compare any changes that may have occurred since your previous exam.
Pay Bills Online
Office Hours: Monday – Friday; 8:30 a.m. – 4:00 p.m.
Mailing Address for Leesburg, Center for Advanced Healthcare at Brownwood, Sharon L. Morse Medical Center, Colony Plaza, Lake Sumter Landing, or Mulberry Grove locations:

P.O. Box 1966
Indianapolis, IN 46206-1966
Radiology Associates of Central Florida Billing
Office Hours: Monday – Friday; 8:30 a.m. – 4:00 p.m.
Mailing Address for UF Health The Villages® Hospital or UF Health Leesburg Hospital Locations:
P.O. Box 3033
Indianapolis, IN 46206-3033
Phone: (Pay Bill ONLY)
(844) 255-0985
Phone: (Inquiries)
(844) 295-4875
Zotec Receives HITRUST CSF Certification
Zotec Billing, which handles our patient billing, has earned HITRUST CSF Certification, a robust IT security and compliance third-party certification which validates their commitment to cyber security and compliance. This certification takes a minimum of two years to get, and Zotec joins an elite group of organizations worldwide that have earned this distinction. Just one more reason our patients can feel safe making digital payments using our billing system.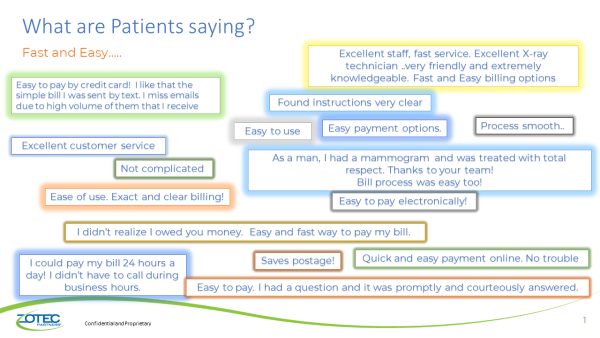 When you get emergency care or get treated by an out-of-network provider at an in-network hospital or ambulatory surgical center, you are protected from surprise billing or balance billing.
Upfront Pricing 
Providing upfront pricing is part of our continuous commitment to your positive experience with Lake Medical Imaging.
We believe in transparency regarding costs associated with your medical imaging. To assist you in making informed decisions, you may ask our staff to determine your deductible, co-pay and out-of-pocket expenses prior to your scheduled appointment.
Participating Insurance Providers
We accept Medicare and most private insurance. If your insurance provider is not listed you can verify coverage with them or by contacting our office.
If you are covered by United Healthcare, please note: Starting July 1, 2022, UHC members will be required to go to a Designated Diagnostic Provider for major imaging services, or they will be required to pay out-of-network pricing.  We are proud to announce that upon a review of our quality standards and other important criteria, Lake Medical Imaging has been named a Designated Diagnostic Provider for major imaging services.
Patient Safety 
Every member of our staff is dedicated to your safe and accurate diagnosis and treatment, as well as to your comfort. So, when your physician orders a diagnostic exam to complete your diagnosis and/or treatment, you can rest assured we're committed to taking every possible precaution to protect you.
Lake Medical Imaging adheres to a principle known as "ALARA," (As Low as Reasonably Achievable), for all radiation exposures.
We are also the only diagnostic imaging center in Central Florida to offer all CT patients a 'personal radiation record' to keep track of the date and amount of exposure, should they require multiple exams over time.
Our radiation protocols and state-of-the-art equipment keep exposure to a minimum.
All of our equipment is checked by a certified Medical Physicist on a regular basis.
Our Radiologists are Board-Certified by the American College of Radiology.
All equipment and facilities are fully accredited by the ACR, which requires adherence to the highest standards and criteria.
Imaging Wisely
Lake Medical Imaging was one of the first 2,000 medical imaging providers in the nation to have taken the "Image Wisely" pledge to optimize the radiation dose used in performing medical imaging on adult patients and to ensure that patients only receive necessary scans. Image Wisely (www.imagewisely.org) is a collaborative initiative of the American College of Radiology (ACR) and the Radiological Society of North America (RSNA).
Read more about what we're doing to stay at the forefront of patient safety.
Scanxiety
Scanxiety is a term that patients sometimes use to discuss the stress and worry that accompanies a radiology appointment. You may read about others' scanxiety on social media, or be experiencing it yourself. Although not all patients experience these feelings, if you do, there are a number of ways to help you reduce your anxiety and cope. And of course, we will do everything we can before, during, and after your scan to keep you informed, put you at ease, and help you feel as comfortable as possible.
Patient Survey
Please help us to better serve you by taking a few moments to complete our Patient Satisfaction Survey about your visit. We value your input and thank you for CHOOSING us for your diagnostic imaging needs. All comments will remain confidential.
To complete the survey, please click on the office that you visited below: