3D Whole Breast Ultrasound, or ABUS, is just a part of our arsenal in the fight against breast cancer. Lake Medical Imaging offers a full range of breast screening options for women with all types of breast density.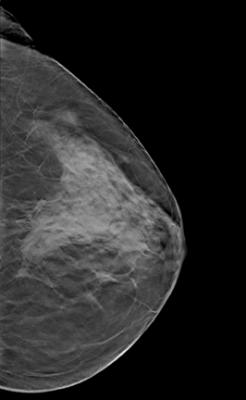 Breast mammography has become the standard diagnostic breast screening tool in women's healthcare, aiding in the detection and intervention of early stage breast cancers. Some doctors have reported seeing a 30 percent reduction in breast cancer mortality since the implementation of routine screening mammography.[1] Due to such statistics, women are encouraged to get mammograms annually after the age of 40. However, the benefits of routine mammography have remained a controversial topic within the healthcare community.
Read the 2017 article "The Advancement of ABUS Technology."
Despite favorable research, mammography alone has not been effective in all populations of women and is most notably ineffective in women who have dense breast tissue. Although the sensitivity of mammography alone in women with fatty breast tissue can be as high as 97 percent, this dramatically decreases in women with dense breasts, falling to as low as 48 percent.[2] It has been reported that mammography alone can miss between 37 and 70 percent of breast cancers within this population.[1] Dense breast tissue obscures tumors on mammograms, making it difficult for radiologists to read and interpret the exams. This inaccuracy has resulted in an increased number of false positives and biopsies, and has increased healthcare costs and patient anxiety.
For this reason, and the fact that women with dense breasts have a high independent risk factor for cancer, many states have passed legislation mandating that physicians notify patients if they have dense breast tissue, warn these patients of the risks associated with mammography alone and educate them about the benefits of supplemental imaging. Some supplemental imaging tests that have become popular include breast magnetic resonance imaging (MRI), breast computed tomography (CT) and contrast-enhanced mammography. Recently, however, research and development in ultrasound are demonstrating that it is a technology that can lend itself to breast diagnostic imaging.
Ultrasound as Diagnostic Tool
Ultrasound is a diagnostic imaging tool that has been in use for many years. Compared to other types of imaging techniques, such as CT and MRI, the technology is more portable, requiring only a handheld transducer and software, and is relatively less expensive. Ultrasound is currently used in many areas of healthcare to guide procedures, check blood flow, determine and assess abnormalities, evaluate pregnancies and examine internal organs.
When performing an ultrasound, the operator places the transducer on the area of the body that is being examined, and the transducer directs high frequency sound waves to specific parts of the body. The differences in the reflection of these sound waves off of tissues and the transducer are analyzed by software and then used to create a 2-D image that physicians can use.3 In recent years the technology has proven that it can lend itself to mammography and has been able to detect small masses in women with dense breast tissue. Marc Inciardi, M.D., assistant professor of radiology at the University of Kansas Medical Center, stated, "At least nine peer-reviewed publications have shown that adding ultrasound to mammography results in approximately 3.5 additional cancers detected per 1,000 patients in those with dense breasts."[2]
However, there are limitations to using traditional hand-held ultrasound that have prevented the technology from being used more often in supplemental breast imaging for women with dense breast tissue. The length of traditional ultrasound tests is one setback, as it can take up to 30 minutes to complete the exam. Another issue that ultrasound screening presents is operator dependency. The results obtained in an ultrasound exam are highly dependent on the skill and expertise of the operator. The use of different operators with varying skill levels often results in inconsistencies. For this reason, ultrasounds usually require an ultrasound technologist who has been trained and accredited to perform ultrasound. However, there is a lack of these professionals available.
Automated Breast Ultrasound as a Solution
In order to address these concerns, three companies — Siemens Healthcare, U-Systems Inc. and SonoCiné — have developed ABUS, a new technology, as an alternative to traditional hand-held ultrasounds for supplemental use. Like traditional ultrasound, ABUS uses high-frequency sound waves targeted at the breast, but the scans provide physicians with a 3-D volumetric image of the entire breast. These 3-D images are more beneficial to women within the dense breast population because they allow radiologists the ability to check the breast from a variety of angles and offer a better interpretation. ABUS exams are also much shorter than traditional ultrasound, with some systems taking as little as seven minutes to perform a bilateral exam — less than half the time of some traditional ultrasounds. Because the transducer used in ABUS automatically scans the breast, the operator dependency is greatly reduced.
Existing ABUS 
There are three ABUS systems currently in use, the first of which is SonoCiné's Adjunctive Breast Ultrasound System. According to the SonoCiné website, the system received U.S. Food and Drug Administration (FDA) 510(k) clearance in the United States in 2008. It is indicated for use as an adjunct to mammography for B-mode ultrasonic imaging of the patient's breast when used with an automatic scanning linear array transducer.[4] A robotic device holds the hand-held ultrasound transducer, which produces between 2,000 and 5,000 axial images of the screened area.2 Use of a robotic device to hold the transducer in place further limits operator dependency and guarantees that breast ultrasound screening can take place without the presence of an accredited technologist.
The Automated Breast Volume Scanner (ABVS) by Siemens Healthcare is a standalone system that also uses a high frequency, large-format transducer to acquire 3-D volumetric imaging of the breast. As the transducer passes over the target area, it creates a field of view volume (FOV) that is 15 x 17 cm. The system is also equipped with breast imaging reporting and data system (BI-RADS) for the assessment of the scans.
In September 2012, the FDA granted approval to U-Systems Inc. for its somo.v standalone ABUS device. Last fall, U-Systems was purchased by GE Healthcare. Like SonoCiné, the somo.v is used as an adjunct to mammography, however this device was approved "explicitly for breast cancer screening for asymptomatic women with dense breast tissue." Like the others, somo.v uses a transducer to obtain a 3-D image of the entire breast, but is also designed for high-volume breast screening. When combined with mammography, the system has been able to detect small, invasive, early stage cancers. The somo.v system was used as an addition to mammography in a clinical study performed at the University of Chicago. The results of this study recorded "more than a 100 percent increase (31 percent absolute increase) in breast cancer detection rate in asymptomatic patients with dense breasts and a normal mammogram when a screening mammogram and the USI ABUS were combined, compared to mammography alone."[2]
The Future of ABUS
ABUS's increased sensitivity — about 97 percent — when used in conjunction with mammography demonstrates this technology can be a beneficial screening tool for those women within the dense breast population. However, because it is a relatively new technology there are certain areas that will need to be addressed as more companies decide to develop systems, and as use and technology continues to increase. One such area relates directly to radiologists. Although the technology reduces the need for an accredited operator, radiologists will now need formal training. Because radiologists are not as familiar with ultrasound as with other imaging, and because the scans are volumetric 3-D images, there will need to be standardized training for all radiologists so that they can correctly interpret these images.
Source: https://www.itnonline.com/article/abus-future-breast-screening