Breast density notification laws have been passed in 31 states to date (but not yet in Florida), and continue to be on the legislative agenda nationwide. The laws vary,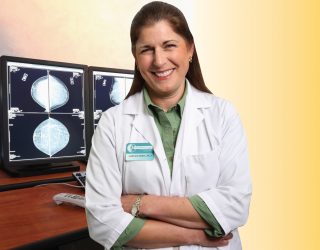 but all are intended to inform women who have undergone mammography about the risks posed by breast density so those with dense breast tissue can decide whether further action might be beneficial. It is critical that breast screenings address all types of breast tissue.
Dense breast tissue can make it more difficult to detect breast cancer early, because it makes it more difficult to identify breast cancer on a mammogram, as both normal fibro-glandular tissue and abnormal masses appear white. In addition, dense breast tissue is associated with an increased risk of breast cancer which can form in the glandular tissue; in fact, there can even be a correlation between fibrous tissue and estrogen production. Fortunately, there are new technologies being used at Lake Medical Imaging that customize breast imaging based on the patient's breast density, so that even the tiniest breast cancer has a better chance of being identified in its earliest, most treatable stage.
"Any woman who has C or D breast density, especially in combination with having one or more first-degree relatives with breast cancer," said Dr. Cathrine Keller of Lake Medical Imaging, "will have as much as a four-fold increased risk. That woman is a perfect candidate for additional evaluation." Increased risk involves other factors as well. "The patient population we serve here in Central Florida differs from the national population; their risk for cancer is potentially higher particularly because of their age. The good news is that for the most part, women in our patient population have information-rich breast screening histories, giving us the opportunity to compare and track subtle changes."
In addition to considering a woman's age, Dr. Keller and the 24 other radiologists on staff at Lake Medical Imaging further personalize each woman's breast screening experience based on her family history and breast density. "We have introduced a full range of breast imaging technologies which can be used based on a woman's unique needs and specific risk factors."
In addition to traditional screening mammography, Lake Medical Imaging offers Automated Breast Ultrasound (ABUS), SenoBright Contrast Enhanced Spectral Mammography (CESM), Breast MRI and 3D Tomosynthesis, which can help detect early invasive cancers and decrease interval cancer rates.