Breast density is associated with an increased risk of invasive cancer among women aged 65 and up, according to a new prospective study published in JAMA Network Open.
Meanwhile, less-dense, fatty tissue was tied to a lower probability of this form of the disease across all age groups. Research has previously correlated breast density with invasive cancer risk among women aged 40-65, but little data exists on the elder population, experts from more than a dozen institutions detailed Thursday.
Epidemiologist Shailesh Advani, MD, PhD, and co-authors believe their findings should help inform providers' imaging strategies.
"The positive associations found in this study between breast density and breast cancer among women aged 75 years or older suggest that breast density and life expectancy should be considered together when discussing the potential benefits and harms of continued screening mamography in this population," said Shailesh M. Advani, MD, PhD, Principal data scientist at the Terasaki Institute for Biomedical Innovation.
Their study utilized data from the Breast Cancer Surveillance Consortium, a collaborative network of imaging registries in the U.S., logged between 1996-2012. A total of almost 194,000 seniors met their criteria, representing nearly 222,000 screening mammograms, with 38% age 75 and up. Five-year cumulative incidence of invasive breast cancer climbed in association with increasing breast density among women 65-74 (11.3 cases per 1,000 women); scattered fibroglandular densities (17.2); extremely or heterogeneously dense breasts (23.7). A similar upward slope was found among those 75 and up.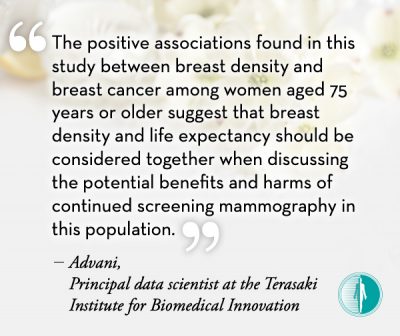 However, women with non-dense, entirely fatty breasts saw a decrease of about 30% in the risk of invasive breast cancer compared to others with scattered fibroglandular density. Advani and co-authors observed no significant associations between body mass index and breast density or cancer risk.
Experts underlined the importance of developing individualized screening strategies, especially among women 75 and up — a population where mammography guidance remains murky.
"With the aging of the population in the U.S. and worldwide, it is becoming increasingly important to implement life expectancy–based screening strategies that consider breast cancer risk so that older women who are likely to benefit can continue to undergo screening and risk of harms such as overdiagnosis and overtreatment can be reduced among those unlikely to benefit," the authors advised.
Source: Information for this article was extracted from: 1.) JAMA Network Open 2021;4(8):e2122810. doi:10.1001/ jamanetworkopen.2021.22810, published August 26, 2021, entitled "Association of Breast Density With Breast Cancer Risk Among Women Aged 65 Years or Older by Age Group and Body Mass Index". Shailesh M. Advani, MD, PhD; Weiwei Zhu, MS; Joshua Demb, PhD; Brian L. Sprague, PhD; Tracy Onega, PhD; Louise M. Henderson, PhD; Diana S. M. Buist, PhD; Dongyu Zhang, MD, PhD; John T. Schousboe,MD, PhD; Louise C.Walter, MD; Karla Kerlikowske, MD; Diana L. Miglioretti, PhD; Dejana Braithwaite, PhD,MSc; and 2.) Radiology Business, August 26, 2021, Marty Stempniak: Breast density associated with an increased risk of invasive cancer