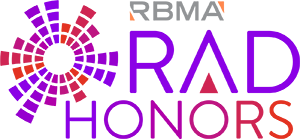 Lake Medical Imaging Among First-Ever Winners of Two National Honors from Industry-Leading Radiology Business Management Association (RBMA)
Practice Recognized at 2022 PaRADigm Awards for Outstanding Innovation and Collaboration
Recently, Lake Medical Imaging, an American College of Radiology-designated Diagnostic Center of Excellence with six freestanding imaging centers in Central Florida, earned two national RBMA RAD Honors Awards from the Radiology Business Management Association (RBMA) – The RAD Honors Innovation Award and The RAD Honors Collaborative Achievement Award. The announcement was made at the 2022 RBMA national conference held recently in Colorado Springs.
According to RBMA, RAD Honors was developed "To recognize radiology practices and vendors who have demonstrated the highest degrees of creativity, innovation, and exemplary leadership."
The RAD Honors Innovation Award recognized Lake Medical Imaging's work with strategic partner Ambry Genetics. Together, they have broadened access to genetic cancer risk assessments and testing for Lake Medical Imaging's patients. The genetic testing panel analyzes genes linked to an inherited risk of eight different cancers, including breast cancer. Risk assessment also includes estimation of breast cancer risk independent of genetic testing using the Tyrer-Cuzick (TC) risk model, which can provide additional information that may impact breast imaging recommendations.
"It's estimated that 80 percent of women with a family history of breast cancer who meet medical criteria, do not receive genetic testing," said Dr. Cathrine Keller, managing physician of Lake Medical Imaging. Lake Medical Imaging incorporated Ambry Genetics's CARE ProgramTM, which leverages a digital platform to make it easy for physicians to provide risk assessments and education on genetic testing. It also facilitates test ordering, the reporting of results, and provides patients with access to genetic counselors.
In the first 12 months of implementing the CARE Program, Lake Medical Imaging successfully screened more than 23,000 patients and 25 percent met the stringent criteria for genetic testing for potential hereditary cancer risk. More than 2000 patients proceeded with genetic testing, and over 90 were identified as having an inherited factor linked with increased cancer risk. "This collaboration shows that the CARE Program is effective, especially in rural areas and underserved communities," said Tom Schoenherr, CEO, Ambry Genetics. "By providing more people access to genetic testing we help improve healthcare outcomes."
The Rad Honors Collaborative Achievement Award, recognized Lake Medical Imaging's collaboration with strategic partner GE. "In 2013, Lake Medical Imaging was the first imaging center in Florida to implement GE's Contrast-Enhanced Spectral Mammography (CESM) technology SenoBright®," said Dr. Keller. "As a result of its ability to help find cancer in women with dense breast tissue, we have twice been recognized as having the highest breast cancer detection rate per 1,000 in the Southeastern U.S., as reported by the ACR National Mammography Database.
"Because of these impressive results, we became a 2021 pilot site for GE's new contrast-guided breast biopsy solution, Serena Bright®, which was the clear next step in our mission to personalize breast cancer imaging and increase detection," she added.
Since implementing Serena Bright in March 2021, Lake Medical Imaging has performed 31 Serena Bright® biopsies, 14 of which were positive for cancer.
"GE Healthcare is thrilled to be a part of the innovative approach and the strong partnership with Lake Medical Imaging in bringing Serena Bright® technology to their patients," said T.J. Webb, GE Market Vice President, Florida. "With Serena Bright's leading-edge technology, physicians and clinicians are able to provide a higher level of care for women, resulting in improved outcomes. We are committed to collaborations like this that enable clinician effectiveness while enhancing the patient experience."
"The knowledge that Lake Medical Imaging has played a role in providing comfort and healing to tens of thousands of patients over the past 55 years is humbling," said Dr. Keller. "As we've scaled up the depth and the breadth of the services and scientific knowledge we've brought home to our patients locally, we recognize the importance of physician leadership in advancing the global science of medical imaging. We are always seeking solutions to disease. The achievements for which we have been honored could not have happened without the support and involvement of our physicians and clinicians and that of our important strategic partners such as Ambry Genetics and GE who share our desire to leave a lasting mark. We are grateful for the recognitions, and for the great team we've created which is always looking ahead toward the future."