SenoBright Mammography Gave My Doctors the Information They Needed to Save My Life – Client Testimonial by Kathi Schue
When I first moved here, I went to another place to have a mammogram and it was not a nice experience. Then, someone told me about Lake Medical Imaging. Six years ago this past January, I went in to have my mammogram, something I always did around my birthday in December.
I found they were very sharing and caring people. The facility had its own space for women's imaging, which I liked because it's a very personal thing.
After my mammogram, I was told there was something they had a concern about. They showed me a tiny gray shadow, and said it wasn't very big, but asked me to come back in six months. Even though I'd had two biopsies before this that were negative, I was told they didn't like what they were seeing and wanted me to have a new test called a SenoBright mammogram. I talked to my personal physician and he said, "Maybe we should."
When I was called in to see the results of the test, I knew why they called it Senobright. It was like someone turned on a light bulb on the screen. I saw bright white where there had only been a hint of gray. The pit of my stomach felt heavy, and I wasn't surprised when they recommended a biopsy.
I told my physician I really didn't want to do this. He sent me to a surgeon who asked me an important question, "Would you rather be one of the 90% who is negative or one of the 10% who is positive and doesn't know it?" So I had the biopsy. I think we all knew what we were looking at.
I felt so comfortable and so wrapped in people's arms that day. Afterward, we just stood there and talked. When I saw my doctor, he said, "This isn't good Kath. It's malignant." You could have knocked me over. When I walked into my house I was a zombie.
My sister had breast cancer in her early 40's and it's not a related thing with us. In fact, most are not hereditary. Back then, she had to have a radical mastectomy and chemotherapy.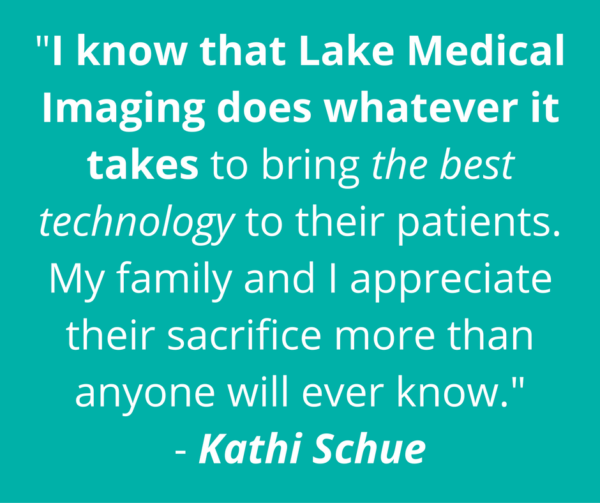 That night I got online and you've never read as much as I did. I had an appointment to see the oncology team two days later.They asked when I wanted the process to begin, and I said… tomorrow. We actually scheduled the surgery for December 2 so I could have Thanksgiving and put up a Christmas tree.
When I went for my surgery, I was told by the surgical team, "we were all here late last night looking at your SenoBright image. We've never seen one. ..It's amazing." The doctor came in and he started yakking about it, too.
Lake Medical Imaging had the only SenoBright technology in Florida at the time. And I happened to move here! Nowhere else around here could I have found this tumor so early. After surgery, my margins were clear so I didn't have to have chemo or radiation.
The doctor said to me, "You caught this so small. The tumor wasn't in the easiest place to find, and you wouldn't have felt it. There's a big article in USA Today saying women don't need mammograms so often. That's ridiculous. There's not one doctor on that board. I'm infuriated."
Putting someone through hell is not a false positive on a mammogram like those recent articles suggested. Hell is not finding a tumor that's there. If I had elected to have mammograms every other year like the article also suggested, it could have put me almost three years further into the disease. By then, the tumor could have metastasized. I'll stand on the rooftop and let everyone know how important this is.
I am grateful to Lake Medical Imaging. They gave me a second chance at life. If we ever move, I will still come back for my mammograms,
I encourage women to tie their mammograms to an event each year. Now, I have mine in September around my anniversary instead of my birthday. I remember that having that one a few years ago was a life-saving birthday present to myself.
I know that Lake Medical Imaging does whatever it takes to bring the best technology to their patients. My family and I appreciate their sacrifice more than anyone will ever know.
Kathi Schue
Related article: Why Age as a Risk Factor Can Be an Advantage for These Patients