Most of the patients at Lake Medical Imaging (LMI) are at higher than average risk for breast cancer. Why? Their age – a well-established risk factor for breast cancer. Close to 80 percent of the patients at LMI are over 60 years old. And the older a woman is, the more likely she is to get breast cancer.
But their age can also work to their advantage when it comes to early detection.
"They almost always have had many prior screening mammograms to use for comparison, so you are better able to see subtle changes," said Cathrine Keller, MD, managing physician at LMI. "Your ability to detect breast cancer is improved and having multiple prior mammograms for comparison helps avoid the need to call back the patient for extra views unnecessarily."
Dr. Keller came to LMI in 1988.
"The group was already in the swing of things with breast imaging," she said. "Every mammography patient met with the radiologist to receive her results on the spot, along with a breast examination." That philosophy of patient-centric radiology remains in place and today is paired with advanced imaging technologies supporting earlier breast cancer detection and treatment, which gives LMI clinicians the opportunity to affect the health outcomes of their patients.
LMI frequently uses GE Healthcare's SenoBright™ Contrast-Enhanced Spectral Mammography (CESM) for additional evaluation after a standard mammogram. SenoBright highlights areas of unusual blood flow patterns – all in a simple and quick procedure. CESM also offers a high level of confidence for clinicians and patients because it delivers clear image quality as the contrast agent highlights areas of unusual blood flow.
"SenoBright is an excellent diagnostic test for us and for this patient population, as older women often find it uncomfortable to lie prone in the MR machine," Dr. Keller explained. "With SenoBright, they are coming into a familiar mammography suite, seeing the technologist they've known for years and having the exam, which is not appreciably longer than a regular mammogram. I look at the images and can give the results right away. They have an immediate answer."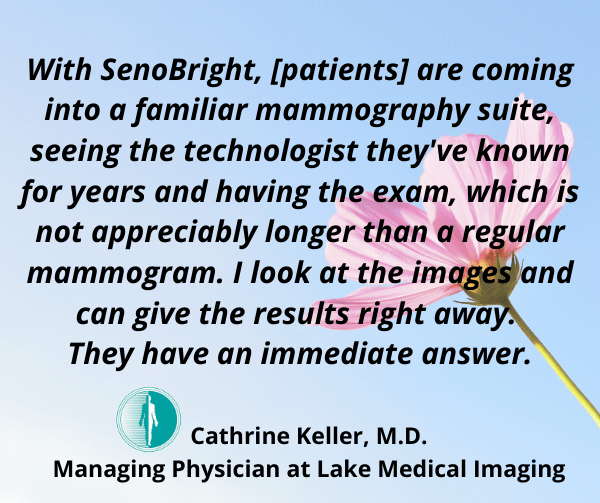 Another key advantage is that the exam can be performed in less than seven minutes – using the same mammography equipment, in the same room, with the same staff.
One LMI patient wrote a letter to the clinic's staff about her experience. After a routine mammogram, Kathi Schue was told there was a concern regarding a tiny gray shadow and that she should return for a follow-up exam. She had a neurostimulator, which precluded her from an MRI exam, so she was recommended for SenoBright.
"I was told my doctors wanted me to have a test called a SenoBright mammogram," says Kathi. "Lake Medical Imaging was the only place in the state that had that technology at the time. When I was called in to see the results of the test, I knew why they called it SenoBright. It was like someone turned on a light bulb on the screen. I saw bright white where there had only been a hint of gray on my prior images. I wasn't surprised when they recommended a biopsy."
Though Kathi was reluctant, she had the biopsy, and the finding was a 4mm invasive ductal cancer. Her surgeon removed two clear sentinel nodes, and her margins were so clear she didn't need adjuvant chemotherapy or radiation.
"Putting someone through hell is not a false positive on a mammogram," Kathi says. "Hell is not finding a tumor that's there. I am grateful to Lake Medical Imaging. They gave me a second chance at life."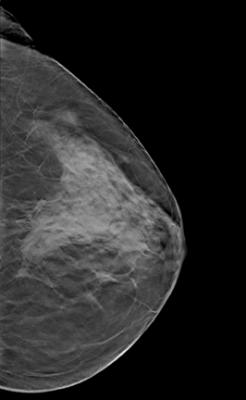 Dr. Keller and the team at LMI are committed to upholding their patient-centric care philosophy, knowing that it has indeed affected patient outcomes. Although providing same-day results or additional testing may be more work for the radiologists and staff, Dr. Keller believes it is well worth it for her patients to leave knowing they're okay, or with a clear idea of what the next steps will be if additional testing is needed.
"I think the personalized approach is vital to the doctor-patient relationship," remarked Dr. Keller. "One of the most important things a doctor can do, and particularly a radiologist, when it comes to breast imaging, is to relieve anxiety. So many women are extremely fearful of breast cancer and therefore even coming in for a screening mammogram makes them anxious and fearful. If I can make that experience better for them, it's more likely they will continue to have their annual screening mammogram."
"Breast cancers diagnosed in women who undergo annual screening mammography tend to be found when smaller, lower grade, and node negative, and are more likely curable. Early detection is the best protection. That's why I believe the personalized approach is so vital."
Source: Information for this article was extracted from a white paper on Contrast-enhanced Spectral Mammography (CESM) authored by Dr. Cathrine Keller. With permission granted and the final copy reviewed by Dr. Keller, this article is  written by Bonnie Cowan and Elizabeth Smith of GE Healthcare. The article first appeared on GE Healthcare's newsroom, The Pulse.